2.1

Base rotator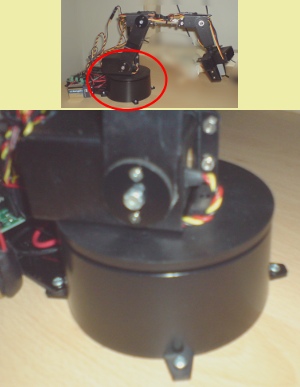 The base at first sight appears to be a very nice construction, with axled bearings and of high-tec materials throughout. However, once I had completed the assembly of the manipulator I found that the base motor (despite being one of the biggest on the assembly) was not able to move the base. I attribute this to two things: the base being pushed too tightly down onto the motor spindle, and not following the instructions and smoothing and lubricating the bearings.
So I remedied these (not having any three-part oil to hand, a bit of engine oil did it), and now the base rotation is perfect (with retrospect, it was pushing the thing too hard onto the spindle that killed it).
Unfortunately it is a rather painful exercise disassembling the arm to be able to get at this base anchorage; you have to completely disassemble the shoulder.
It is necessary then to use some judgement. On the whole, it is better that the turntable be loose to the base. Unfortunately this may introduce rather a lot of free play into the turntable, which has to withstand rather a lot of lifting torque (when the arm is fully extended into a horizontal position, the base has to take the entire weight as a moment). With retrospect, this is in fact quite poorly designed. It is really necessary to make the turntable much more rigid than it is, but more particularly it needs bearings on top, around the edge, as well as on the bottom as the forces of the arm on the turntable are both lifting forces as well as pressing forces.